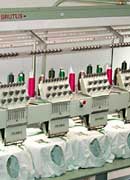 Our company:
Provides the best quality products and reliable embroidery service.
Provides quick turnaround time.
Is equipped with top of the line embroidery machines with heads up to 12.
Uses high tech computers to design and process art work.
Uses in-house digitizing and production.
Our staff is specialized in digitizing any custom embroidery design.
Offers the widest variety of Sportswear and Promotional Products.
Why not eliminate the middle man and cut your cost to minimum.
Resellers use our contract embroidery services with confidence.
Our guarantee:
FREE digitizing for any stock image!
LOW minimums on orders and reorders!
FREE setup charges on reorders within 3 years (same logo/design required)
Remember: the setup fee is a one time charge! Computer disks hold the embroidery designs and are stored for future orders.
We MATCH or BEAT any written quote!

Please contact us or use our on-line request form to receive a free quote.
Price Information:

DIGITIZING

Up to 5000 Stitches

Additional charge
per 1000 stitches

Any quantity

$35.00

$ 5.00

EMBROIDERY

Up to 5000 Stitches

Additional charge
per 1000 stitches

Qty/piece: 12
$5.00
.95
Qty/piece: 36
$3.50
.50
Qty/piece: 72
$2.95
.50
Qty/piece: 144
$2.25
.25
Qty/piece: 500
$1.75
.25
Qty/piece: 1000
$1.50
.25
Qty/piece: 5000
$1.25
.25
Embroidery:

3D embroidery hologram and appliqué.
Threads types: rayon, polyester, metallic, neon and others.
- View some Sample Designs done in the past!
- View large selection of stock designs!
Minimum Order for Embroidery:
Embroidery requires a minimum of 3 dozen items.
Garments can be mixed colors and sizes as long as the design is the same on all of the order.
View SPECIALS page for specific decorated garment pricing information.